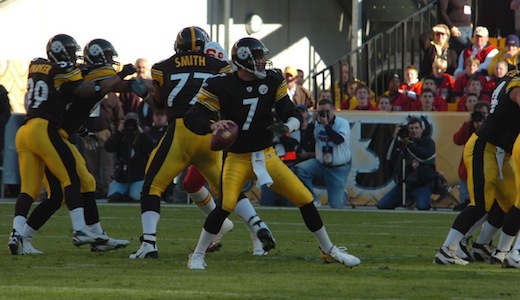 1. Aaron Rodgers, Green Bay Packers: The playoffs have been turned into Rogers' personal coming out party. His numbers are astronomical; 136.8 QB rating, seven total touchdowns, 546 passing yards and no interceptions. The guy looked like a hybrid of Randal Cunningham, John Elway, Steve Young and Dan Marino against the Falcons. The Bears better hit Rodgers with baseball bats come Sunday or he's gonna set Soldier Field ablaze.
Bet the AFC and NFC Championship Games with Bodog Sportsbook – CLICK HERE NOW!
2. Ben Roethlisberger, Pittsburgh Steelers: When the Steelers needed to re-group and make some plays in the second half against the Ravens, Roethlisberger was there to lead. His numbers won't blow you out of the water. He isn't a celebrity like Tom Brady or a marketable athlete like Peyton Manning. He's just a regular guy with the same legal problems everyone goes through. In his case though, the women are obviously after his money. In our case, we just want to grab ass.
Big Ben is a proven winner. He makes the most (or least) out of his offensive line. No one survives an oncoming rush like Roethlisberger. He manages to find the right guy on a broken play. He's like an eye of a storm — always at the center of chaos but still in control.
3. Jay Cutler, Chicago Bears: Cutler owes us an explanation for suddenly having the right mind to throw passes that make sense. No denying he has a rocket launcher arm. But to operate a weapon like that there needs to be a bright mind behind it. North Korea has nuclear missiles, but can we ever trust them with Kim Jong Il behind the operation? Hell no. Well, overnight Cutler went from Kim Jong Il to Iran's Mahmoud Ahmadinejad — still dangerous but somehow subdued and occasionally rational.
Bet the NFL Playoffs at Bodog – CLICK HERE NOW!
4. Mark Sanchez, New York Jets: I see a hailstorm headed toward my direction. So, why all the hatorade against Sanchez and the Jets? We have to accept that Cutler has played better overall in one game than Sanchez played in two games. The Jets can survive a terrible game from Sanchez and win. Just look at his
189-yard, one interception and no touchdown performance against the Colts. The defense won that game for the Jets by forcing Peyton Manning off the field and allowing only a field goal in Indianapolis' final possession.
"Wait, what about his performance against the Patriots?" No denying that Sanchez outdueled Tom-Terrible with a three touchdown, no interception performance. It's just that Cutler one-upped him with a nontraditional Cutler four touchdown performance. He channeled his inner Cam Newton and rushed for 43 yards and two touchdowns. Cutler rushed for two touchdowns! Cutler actually risked getting hit instead of throwing into heavy coverage! It's gonna take me another week until I fully comprehend the two previous statements.