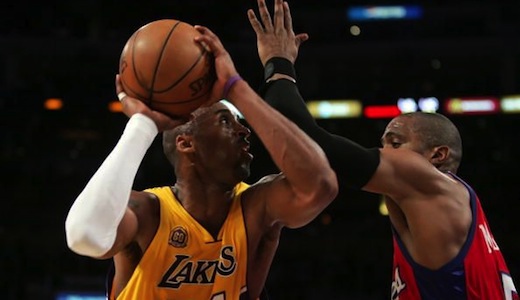 Los Angeles Clippers at Los Angeles Lakers Fri. Feb. 25, 2011 10:30 p.m. EST
The Los Angeles Clippers are arguably a team on the rise in the Western Conference as they have seen rookie phenom Blake Griffin quickly emerge as a superstar in this league and shooting guard Eric Gordon become one of the best scorers in the NBA. Even though Gordon has been out with injury and Griffin isn't really getting much help in the scoring department without him, this team does look promising moving forward.
Bet the NBA Season with Bodog Sportsbook – Click Here to get your Betting Account
On Weds. Feb. 24, the Clippers made a surprising trade just before the NBA trade deadline. Even though it seemed like center Chris Kaman would be the most likely candidate to be shipped out of Los Angeles before the deadline, former All-Star point guard Baron Davis turned out to be the Clippers biggest bargaining chip as they sent him the Cleveland Cavaliers.
In exchange for Baron Davis and a 2011 first-round draft pick, the Los Angeles Clippers received point guard Mo Williams and small forward Jamario Moon. This was a surprise to say the least as Davis was just starting to get going for the first time with the Clippers as he and Griffin became a deadly duo.
So even though Davis' future with the Clippers was starting to look up, they decided to take the team in another direction and get rid of Baron's huge contract in the process.
On Friday night, the Los Angeles Clippers will be the visiting team at Staples Center as they are set to take on the two-time defending NBA champion Los Angeles Lakers for the third time this season. Ironically enough, the Clippers have given the Lakers a run for their money in all three games this season and might be able to do the same this time around.
Both Williams and Moon should be available for this season's third Battle of Los Angeles, but just like any trades that go down in the NBA, this will take some time before the Clippers can strike up some team chemistry.
With just 24 games left in the NBA regular season, the Los Angeles Clippers will do everything within their power to contend for the eighth and final playoff spot in the West, but their chances are slim to none right now as they are currently sitting in 13th place in the Western Conference with a 21-37 record.
Bet on NBA and NCAA Basketball with Bodog Sportsbook
The Los Angeles Lakers will almost certainly be favored to come out on top in this one as they are on a bit of a roll right now. With a 24-point blowout against the Atlanta Hawks followed by an overtime win at the Rose Garden against the Portland Trail Blazers, the defending champs are seemingly back on track and could be ready to pull off another blowout against their cross-town rivals.
This should be an entertaining game with Blake Griffin and Kobe Bryant going back and forth, but with the recent trade made by the Clippers, I believe they will struggle with team chemistry and should fall fairly easy to their big brothers.