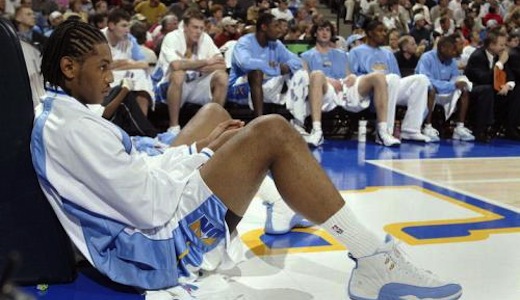 Every single year around this time in the NBA regular season, trade rumors start to circulate around the league as struggling teams try to do what they can before the NBA trade deadline to make their squad better and a legitimate playoff.
Usually when the trade rumors start to circulate there might be one or two big-names on the market. Even though these players are "big-names", few are actual game changers in terms of single handedly turning around an NBA franchise. This year there is an exception as the Denver Nuggets All-Star forward Carmelo Anthony is reportedly available and ready to leave the Mile High City.
Bet on NBA and NCAA Basketball with Bodog Sportsbook
Before this NBA regular season even began, Carmelo Anthony was offered a three-year contract extension for $65 million dollars. This is huge extension to say the least as not many teams around the league are willing to make this kind of commitment to a player, but the Denver Nuggets know what they have in Melo and didn't want him to become a free agent before the 2011-2012 season.
Whenever a player like Melo becomes available all the teams in need of a player of his caliber will do anything within their power to get him. Obviously, the Mile High City isn't exactly the most desirable destination for big-name players like Melo when you have places like New York, Los Angeles and Miami as options.
Over the past couple of months, Melo has been linked to a deal sending him to either the New Jersey Nets or the New York Knicks. Well, after some time and plenty of different offers that were declined, the Nets decided to pass on Melo leaving the New York to be his most likely destination.
To make things even more complicated and intriguing, the two-time defending NBA champion Los Angeles Lakers were reportedly interested in trading their promising young center Andrew Bynum to Denver in exchange for Carmelo Anthony. With the Lakers recent struggles and inability to beat good teams, the rumors seemed to be for real, but with a win over the Celtics recently, the talks to bring Melo to L.A. could be dead.
Bet the NBA Season with Bodog Sportsbook
Even though the Lakers may have lost their interest in Carmelo Anthony after their recent resurgence, the All-Star forward might still be headed to Los Angeles, but in a Clippers uniform.
This trade rumor may be the biggest stretch of any we have heard involving Carmelo Anthony, but there may be some truth to it and a slight possibility that it could go down. The most intriguing and exciting part of this possible trade would be seeing Carmelo Anthony playing alongside Baron Davis, Eric Gordon, DeAndre Jordan and most notably rookie phenom Blake Griffin.
If this trade did go down which reportedly would include center Chris Kaman, rookie Al-Farouq Aminu and draft picks, the Clippers would be a legitimate force to be reckoned with in the Western Conference.
Obviously, this is a stretch, but if it did happen the Clippers could quite possibly be the most entertaining team in the league!