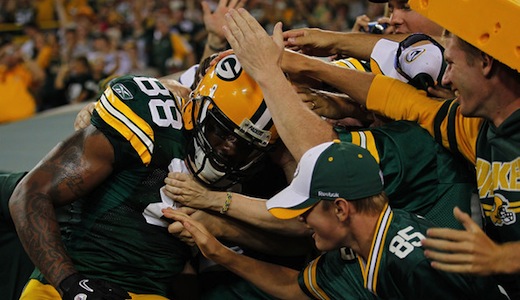 1. The real underdogs. The Packers are the real underdogs of Super Bowl XLV. Aaron Rodgers is clearly in the zone right now, but he lacks experience. Prior to this year he played in only one playoff game. Their secondary is young with Sam Shields and Tramon Williams. It can't be denied that they're talented, but the veteran savvy of Hines Ward and Heath Miller will give them trouble. It's easy to root for underdogs because people just love a heartfelt story. It'll also signal the beginning of a new era with Rodgers under the center.
Only 5 Days Left till the Super Bowl! Click Here to get an account and Bet on IT!
If the Steelers win their third, they'll be the new New England Patriots – meaning that they'll be hated because they win too much. Much like Jeff Gordon was hated when he was invincible on the track. It's time for change and a new dynasty.
2. Tired of Tom Brady and Peyton Manning. Both of these guys always get the credit. Whether it's shooting commercials, signing big contracts or having supermodel wife, they both have it made. Their legacy won't be tarnished even with their recent playoff failures because they have rings. It's time though that we talk about other quarterbacks. Rodgers is a breath of fresh air. He is young and isn't a conventional pocket passer. He takes risks. That's what makes him exciting to watch. There's also a cockiness about him. And you got to love his championship belt celebration. It shows how bad he wants to win a ring or, in his case, a hypothetical belt.
3. 13-year Super Bowl appearance drought. It's easier to root for a team that is a long shot to win the Super Bowl, despite what the Vegas odds say. Brett Favre led them to the Promised Land 13 years ago and failed to leave with a second consecutive ring.
Sign up for an Account Now at Bodog Sportsbook – Bet the Super Bowl
4. Aaron Rodgers. It's been quite a journey for Rodgers. He was projected to be a lottery pick in the 2005 draft. Instead, he dropped all the way to 24th before Green Bay scooped him up. Boy, San Francisco must want a do-over because they drafted Alex Smith with the first pick in the 2005 draft.
He spent three years behind Brett Favre before coming into his own the past three years. It looks like he's been taking notes after all those years on the bench because after just three years, he finds himself in the Super Bowl. It took Favre four years.