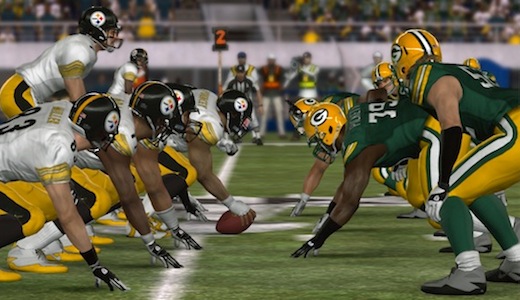 All anybody has been able to talk about heading into Super Bowl XLV has been how good these defenses of the Green Bay Packers and the Pittsburgh Steelers are and how they will be able dictate the game. At some level, I don't totally disagree with the fact that this game could be won on the defensive side of the football, but Aaron Rodgers and Ben Roethlisberger haven't really been given the credit they deserve as to the league's best quarterbacks.
Obviously, with an entire two weeks at their disposal, NFL analysts have talked about Big Ben and perennial Pro Bowler Aaron Rodgers, but it has been the defense and players like Clay Matthews and Troy Polamalu that have dominated the headlines.
Super Bowl Sunday at Last!  Click Here to get an account and Bet on IT!
Here is a breakdown of the two quarterbacks in Super Bowl XLV and how I think they could be the key to victory for their team this Sunday in Arlington, Texas:
Ben Roethlisberger, Pittsburgh Steelers
There only a few players at the quarterback position in the league today that I see can call themselves a Super Bowl champion. Tom Brady of the New England Patriots comes to mind, the Indianapolis Colts four- time NFL MVP Peyton Manning and his little brother Eli Manning of the New York Giants, but only a select few have won more than one Super Bowl title and that's where the Pittsburgh Steelers Ben Roethlisberger comes in.
Even though he may not put up the numbers like Tom Brady or be as intimidating to opposing defenses like Peyton Manning, Big Ben is the total package at the quarterback position in terms of being a leader on the football field.
Big Ben isn't the type of quarterback that throws for over 300 yards and three touchdowns, but he is as hard to stop as most of the elite quarterbacks in the league today. Not only does he seem to make the right play at the right time, but he is also incredibly hard to bring down as he's built like some lineman that protect him.
Ironically enough, even though he has the frame of some of the biggest players on the field, Big Ben can also run and is known for his elusiveness when outside of the pocket.
Despite all of these qualities though, the two-time Super Bowl champion quarterback might have his work cut out for them as he won't have Pro bowl center Maurkice Pouncey (high ankle sprain) snapping the football and will be trying to avoid Clay Matthews' pass rush.
Obviously, Big Ben has an impressive resume and is no stranger to these pressure situations, but it will be tough to win a third Super Bowl title this weekend against a hungry Packers' defense.
Sign up for an Account Now at Bodog Sportsbook – Bet the Super Bowl
Aaron Rodgers, Green Bay Packers
Only a few quarterbacks in the history of the NFL have been able to follow up careers of Hall of Famers. Steve Young of the San Francisco 49ers was able to follow in the footsteps of Joe Montana and win two Super Bowl titles, but that is the only big-name that has really been able to defy the odds.
When Aaron Rodgers came into the league he had to sit behind Green Bay Packers legen
d Brett Favre. Not only was Favre considered a God in Wisconsin, but he was also perhaps the toughest quarterback ever to play in the NFL as he never missed a game.
That can be tough for promising young quarterback to play a backup role, but Aaron Rodgers pulled it off beautifully as he was patient in waiting for his turn which has finally arrived.
With the confidence of the entire Green Bay Packers franchise behind them, Rodgers has been able to go full steam ahead and has quickly become one of the best quarterbacks in this league. Not only does he possess all the skills of an elite quarterback in terms of dominating in the passing game, but he can also be extremely dangerous with his feet as he can scramble with the best of them.
Coming into this game in my opinion, Rodgers is without a doubt the best of the two quarterbacks as he possesses the ability to take over games single-handedly and put the offense on his back to lead them to victory. The Steelers defense might pose some big problems for Rodgers during Super Bowl XLV, but ultimately I see the Packers gunslinger win his first Super Bowl title this Sunday at Cowboys Stadium.