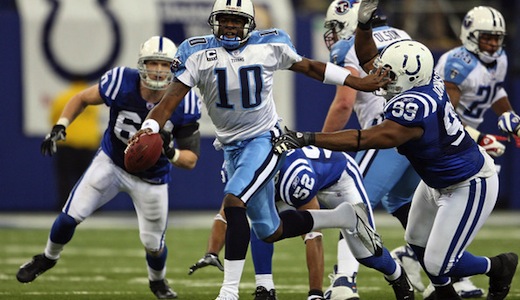 The Tennessee Titans had yet another rough season in which they could've turned their year around, but didn't and missed the playoffs yet again. As if missing the playoffs after a promising start the year wasn't bad enough, the Titans lost their starting quarterback Vince Young after a rift with head coach Jeff Fisher.
As a result of the rift, Young did play another game and Fisher's job security seemed to be in jeopardy. With Fisher's 16 years in Tennessee and being the longest tenured head coach in the NFL, most people believed that it was the end of Vince Young in Tennessee.
Super Bowl SUNDAY! Click Here to get an account and Bet on IT!
Ironically enough, that hasn't been the case as the complete opposite has happen as head coach Jeff Fisher and the Tennessee Titans franchise decided to part ways. There is no question that this was a nice way to get rid of the head coach instead of just firing him, but Vince Young's fate is still up in the air.
A lot people believed that Young would just get released from the Titans, but that didn't happen as it seems the team has been weighing the options. As of right now, Tennessee is actively pursuing a trade to send their former face of the franchise elsewhere.
With Young having a pretty good career statistics and a winning record when under center, there will be a lot of teams around the league that might look into making a deal for the troubled quarterback. One of the places that might look into acquiring the former Texas standout is the Houston Texans.
Obviously, with Matt Schaub under center the Texans seem to be pretty solid at their starting quarterback position, but with Schaub being somewhat injury prone, they might reach out to the Titans for Young.
With the former Texas Longhorns quarterback being a hero in the state of Texas, Vince Young would love to return to his home state, but whether or not a deal gets down between the Titans and the Texans remains to be seen.
Bet the NFL Super Bowl at Bodog – CLICK HERE NOW!
Along with the Houston Texans, the Minnesota Vikings, Miami Dolphins, Arizona Cardinals and Buffalo Bills have also shown interest in Vince Young.
One of the most intriguing teams of the five is the Minnesota Vikings. With the recent retirement of Brett Favre and the offensive firepower of the Vikings with players like running back Adrian Peterson and wide receivers Percy Harvin and Sidney Rice, Vince Young would seemingly be the perfect fit in Minnesota.
So in my opinion, the Minnesota Vikings should go after him as they could become a playoff team once again next season by giving up some draft picks. It will be interesting to see where Vince Young goes next season, but I wouldn't be surprised to see him under center for the Vikings.