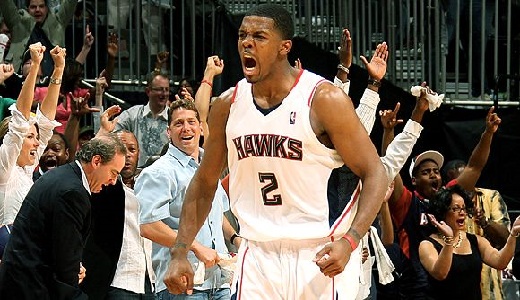 While this is the best chance for the Bucks to land a win in this series, the Hawks are still the dominant team. A game is always worth a look when the line drops close to 10 total points. The only difference between game one and game three is the court. Milwaukee's arena is going to be packed, there is no doubt about it, but the fans can't bring back Andrew Bogut or Michael Redd. This is the biggest problem for the Bucks, the absence of their superstars. While Redd has been out for quite awhile, Bogut was lost somewhat recently. His teammates still need to adjust to life without the big man.
The Hawks were a big favorite in game one, and they were still pretty big favorites in game two. By game three on Saturday, however, they have been reduced to 1 point dogs. This is the time for the Hawks to all but lock up this series. If they can win game three, it gives them a 3-0 lead an makes it all but impossible for the Bucks to stage a comeback. The Hawks know this, and they are going to be playing as hard as they can. The Bucks are at home and are going to have the adrenaline running, but it might not be enough for a win.
The moneyline is not even an option in this game as it is off. The over/under can be confusing in this game with the shift to Milwaukee. Game four is a better game to pick when betting the over/under. The Hawks are certainly the best team in this match up. The question is really whether home court advantage is going to play a major role. It has been a big factor in the other series as they changed courts, and it is likely that it will make an impact in this game as well. Take the Hawks and rest assured knowing that Atlanta is the best team in this battle. Even if they manage to lose, a one point loss is a push, and a loss is likely to be close.