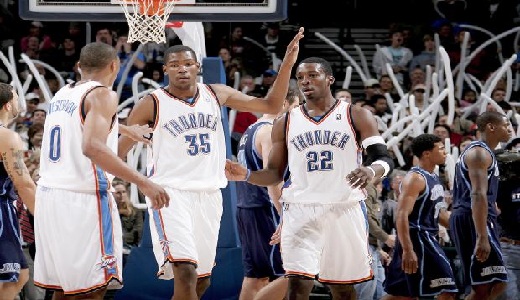 Los Angeles Lakers vs. Oklahoma City Thunder (Under 194)

Game three was a bit of a shocker, thought it wasn't a major surprise. It wouldn't be very fair to say that the Thunder were a big underdog in game three. They made game two very interesting, and this series could easily be 2-1 in favor of the Thunder. This is why game four is so tough to bet. It is perhaps the trickiest game of the playoffs, and it is tough to pick a winner. Oklahoma City clearly received a big boost when they were able to move back home, perhaps even more than anyone could have expected. It was very loud in OKC and the Lakers stumbled towards the end. Veteran leadership could be enough for the Lakers to regain control in game four, but Kevin Durant would love nothing more than to tie this game up at 2-2.
There are some interesting aspects to this Lakers vs. Thunder match up. One on hand, there is Kevin Durant, a young player looking to make his mark in the NBA playoffs. On the other hand, there is Kobe Bryant, a constant force in the NBA who has won it all many times before. Which one do you want to put your faith in? Perhaps the difference between these two teams is not their superstars, but the supporting cast that keeps them going. Kobe and the Lakers have the edge in this regard, with veterans to fill any role. The Thunder (and their fans) were extremely happy with one win in this series, and that is an accomplishment in itself, but it might be all they get.
As mentioned previously, betting on a winner in this game is quite a task. The Lakers are the best pick if you are looking to bet on the spread (or moneyline where available), but 1.5 points were trimmed off of game three's line. At +3.5, the Lakers would be a great pick in game four, but at +2, it is just too close. Los Angeles could blow out the Thunder, but there it is almost as likely that Oklahoma City keeps it interesting. The Lakers got off to a hot start in game three only to squander their lead, so we know the Thunder can win. The under is the best bet in this game so long as both teams don't catch on fire for the entirety of the contest.