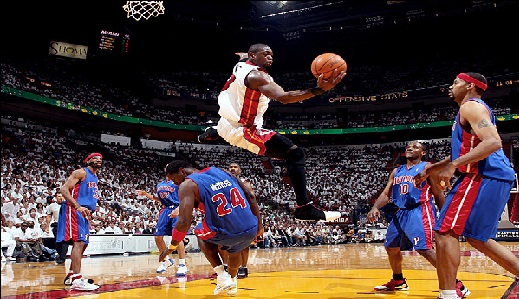 The Celtics vs. Heat series looked to be the most unlikely series to finish in four games. Three games in, however, Boston has a 3-0 series lead. With a win on Sunday, Boston is going to be the first team to advance to round two of the playoffs. They played a lot of close games with the Heat, but managed to escape with wins in each one. Game three went down to a buzzer beater, and game one required a big comeback. Game two was not even close, with Boston completely destroying Miami. Miami does not want to walk away from this series without a win, even if they have little shot of coming back in this series. Game four is a battle for pride, and Miami has home court advantage to aid them in their mission.
Michael Beasley, for the most part, has underperformed in this series. The Heat needed him to step up if they wanted a legitimate shot at winning this series. Dwyane Wade, on the other hand, has been phenomenal. Wade doesn't seem to have an off game. When he isn't scoring, he is creating opportunities for his teammates. There isn't much more that a coach or fan (or bettor) can ask from Dwyane Wade. If Miami's role players show up on Sunday, they can make this series 3-1. Boston is either going to play hard and try to wrap up the series early, or they will be relaxed and let Miami steal a win. Miami has to want this game more than Boston, but the question is whether they can match Boston's talent.
The money line is worth a look in this game if you can find it, but it is off at most sportsbooks. Betting on Miami is the optimal play in this game, especially when you consider that they are going to be out 4-0 if they lose. This would not only be a disappointment for Miami, but also an embarrassment. If they want to salvage anything from this series and give themselves a small bit of hope), Miami needs to get a win in game four. They have home court advantage, they have Dwyane Wade, now they just need to put it together for a full four quarters.