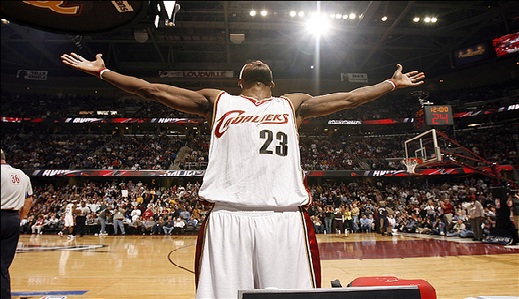 The Cavaliers and mighty Lebron faltered in game three, but can the Bulls win two in a row? If Chicago was able to pull of consecutive wins in this series, it would be absolutely amazing. Despite a decent showing in game two and a phenomenal performance in game three, the Bulls are still outclassed. The Cavs demonstrated just how many weapons they had when they pulled the game to within 2 points in game three. It seemed like Chicago had the game in the bag with a 20+ point lead, but Lebron and company proved otherwise. For a few minutes, it seemed to be a near certainty that the Cavs would take over the game an ultimately win. It took Cleveland a bit too long to stage a comeback, however, and they fell shorts. Give the Cavaliers credit, though, as no one thought they had a shot after falling into a massive hole after half time.

Lebron is the key to the Cavaliers success, everyone knows that, but it is becoming quite apparent that the Bulls are nothing without Derrick Rose. This might be pushing it a bit, as Joakim Noah, Luol Deng, and others have really stepped up their efforts in the past two games. The problem is that they are going to need another perfect performance if they want to win game four. This is just too much to ask of anyone, especially a relatively inexperienced playoff squad like the one that Vinny Del Negro is working with. Is it possible that the Bulls get another win in game four? Yes. Is it likely? Absolutely not. Lebron wants to wrap this series up, he was probably frustrated with just one loss, and he surely doesn't want to add another to his playoff resume.
The swings in the betting lines for this series have been incredible. The Bulls went from heavy 11+ point dogs in game one, to 10 point dogs in game two, and then ultimately were slight underdogs in game three. For game four, the spread has come a bit back to life, with the Cleveland Cavaliers sitting at -5.5. The Bulls moneyline is your best bet if you feel confident in Chicago's ability to win another game at home. At +220, it is a great investment that is much better than the line available in game three. The Cavs, however, are still the best bet here. Cleveland should earn another win in game four so long as they avoid any scoring droughts like the ones that put them in a hole in game three.