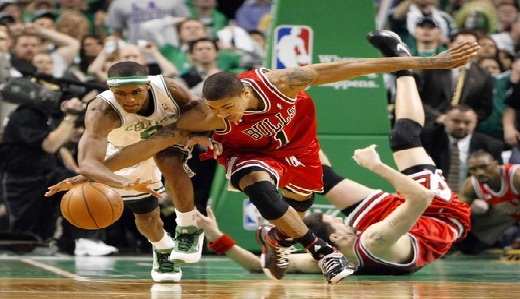 The Chicago Bulls should have covered their +11.5 line in the first game of the playoffs, but came up just a few points short. If Chicago could have made a layup in junk time, they would have covered the line. As it turns out, they missed a few short shots that would have locked it up, and Bulls backers walked away disappointed. Today, the Bulls are +10.5 point dogs, one full point less than they were on Saturday. Perhaps odds makers think that Lebron will sit a little more in this game, or maybe the Bulls gained a new flock of bettors after their impressive comeback from a 22 point deficit on Saturday. Either way, the Bulls are still the play in this game.
The moneyline is very risky in this game, even though it is entirely possible that the Bulls manage to win two games in this series. +625 is very tempting, if only because you have to figure Chicago wins more than 30% of the time here. At the same time, however, the Bulls can't stop Shaq or Lebron. Shaq can be maintained, but Lebron has been a mystery for years now. The Bulls thrived when Lebron went a few minutes without the ball, but as soon as he got some touches it was over. Beyond this, Chicago didn't get enough open looks for sharp shooter Kirk Hinrich. They need some clutch threes if they want a legitimate shot at winning this game.
The Cavs are not the best team in the playoffs, that title goes to the Lakers, but they are too much to handle for the Chicago Bulls. With that said, Chicago is a solid bet in game two of the series. The moneyline is very volatile, but has some potential. If you are risk averse, it would be better to bet on the spread at +10.5 for Chicago. Of the two NBA games being played on April 19th, the Bulls are the best overall pick.