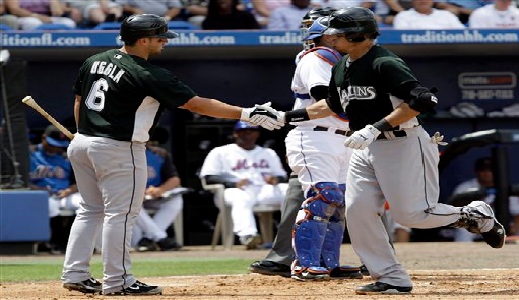 The Marlins and Reds face off at 7:10 on Tuesday in the second game of their series. Monday's game went down to the wire, with Cincinnati just barely escaping with a win. Both teams had opportunities to blow the game wide open. The Marlins steady offense kept them in the game, while the Reds rocky pitching blew every lead that they got. Scott Rolen was dominant on Monday, blasting two home runs. On Tuesday, the Marlins are starting Nate Robertson. Robertson is far from a stud, with a career ERA that approaches 5. The Reds are responding with Bronson Arroyo. Arroyo had a phenomenal start to kick off the 2010 season, but his 2009 was very mediocre. Don't look to Arroyo's first start for any indication of his true ability. Even the worst pitchers will throw gems from time to time. Arroyo isn't a weak pitcher, but he isn't a stud either.
The Marlins have the clear edge on offense. The Reds do have Jay Bruce and Joey Votto, but their lineup is not a constant threat. Scott Rolen and Brandon Phillips can breakout for big games, but they aren't as consistent as the Marlins. The Marlins are built around a compilation of solid hitters who can all produce, while the Reds need to rely on just a few hitters to produce all of their runs.
The Marlins could have won Monday, and they should be looking to avenge their close loss on Tuesday. The moneyline is not favorable on either side of this game, but the run line is a great option. If the Marlins win Tuesday, it will probably be by at least a few runs. The game was close Monday, but it doesn't mean that Tuesday's game will be close. At +175, the Marlins -1.5 run line is a great pick. They might not cover this run line 50% of the time, but they should cover it enough times to make this a very profitable bet.