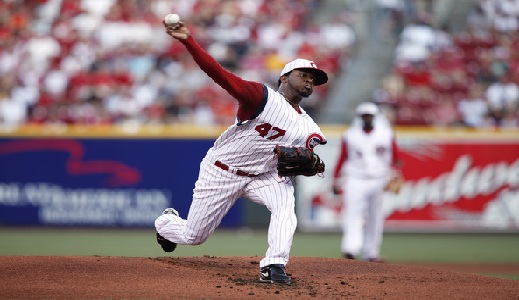 The Reds and the Marlins start a new series on Monday, with the Reds making the trip down to Miami. On Sunday, Florida was able to stage a comeback in the late stages of their afternoon match against the Dodgers. The Reds beat the Cubs in two of the last three games that they played, with their only loss coming against Carlos Zambrano. Even though they lost to Zambrano, they could have easily swept the series, having blown a 3-0 lead in their only loss. Cincinnati's offense remains undervalued, with Jay Bruce underperforming in 2010. Joey Votto and and Brandon Phillips can produce plenty of runs on any given day. They don't have any true superstars, but the Reds are capable of beating almost any team in baseball. Aside from their  opener, Cincinnati has managed to keep every game close.
Johnny Cueto starts for the Reds on Monday. Cueto has big game potential, but he is also prone to some really bad games. He should be able to shut down the Marlins, but it wouldn't be a great surprise if the Marlins exploded for a big inning or two. This is the risk with Johnny Cueto. He might pitch a shutout, or he could give up six in three innings. With that said, he is a much better pitcher than Ricky Nolasco, the Marlins starter. Nolasco had a very mediocre 2009, and his first start of 2010 yielded a 4+ ERA. This is pretty much what you can expect from Nolasco, a 4-5 ERA.
The Marlins are very comparable to the Reds on offense. Hanley Ramirez and Dan Uggla are the perennial powers on Florida, but Jorge Cantu can punish opponents when he is hot. Considering that both teams are pretty even on offense, the Reds are a good pick on the moneyline at +135. The Reds need Cueto to perform, or for their bats to light up Nolasco. If either, or both, of those things happen, it should be an easy win for the Reds. This is one of the best picks in MLB Betting for Monday.