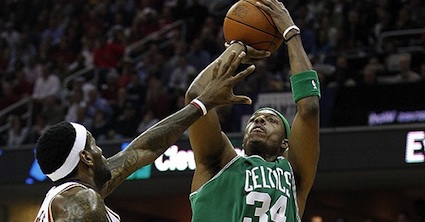 Celtics-Cavaliers 5-13 8:00 PM
A couple of years ago there was no team in the NBA better than the Boston Celtics. In just a single season, the Celtics had gone from arguably the worst team in the league to the cream of the crop in the NBA after they acquired both Kevin Garnett and Ray Allen to play alongside Paul Pierce.
The combination of Garnett, Allen and Pierce was a deadly one to say the least, but to make things even more difficult for Boston's opponents, the Celtics had drafted one of the most promising young point guard in Rajon Rondo.
With four out the five starters for the Celtics being All-Star caliber players and amongst the best in the league at their positions, there seemed to be no stopping Boston as they made it all the way to the NBA Finals in 2008 to face off against an old rival in the Los Angeles Lakers.
Despite the Lakers really coming into their own that season, due to the addition of All-Star forward Pau Gasol, Kobe Bryant and company were not able to hold off the reeling Celtics from winning an NBA title.
In 2009, the Celtics had high hopes of repeating as NBA champs, but started to feel their age during their title defense as injuries became a common thing, especially for forward Kevin Garnett. Even though KG's body was able to hold up for the majority of the season, he was a no-go for the playoffs and the Boston Celtics were ultimately knocked out much earlier than anticipated.
This season the Boston Celtics were thought to have one more chance, with their Big Three (Garnett, Allen and Pierce) still intact, in order to compete for an NBA title. Throughout the regular season the Celtics played extremely well, a bit streaky at times, but nonetheless a force to be reckoned with in the Eastern Conference once again.
Along with having relatively the same roster intact, the Boston Celtics were able to sign a welcome addition to the team in All-Star caliber forward and NBA champion Rasheed Wallace. The versatile veteran was thought to be huge upgrade to the Celtics frontcourt that could spread the defense and another big body to throw at the Orlando Magic's Dwight Howard if they should meet in the playoffs down the road.
Unfortunately, even though Wallace has been solid at times, the signing of the versatile forward has been somewhat of a bust as he hasn't been the player Boston expected to get off the bench.
Needless to say, the Boston Celtics have been able to mount another charge into the playoffs once again with their aging superstars and veterans, but now face a serious uphill battle against the Cleveland Cavaliers in the second round.