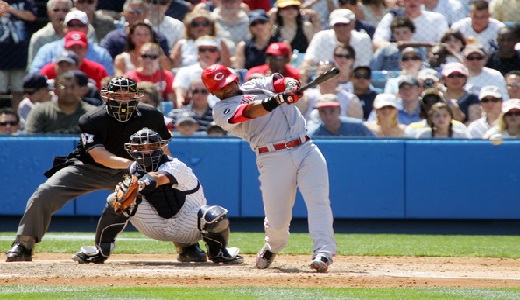 Take This Bet:
Cincinnati Reds -110 (Click Here for Best Line)

Vicente Padilla may not have done too poorly in his most recent outing against the San Francisco Giants, but he didn't exactly impress either. He was on the brink of some major disasters, and barely escaped without completely blowing the game. His career is on a massive downslide, and bettors should be jumping on any opportunity to bet against him. Last time, Padilla faced the shaky and unreliable Todd Wellemeyer. On Thursday, however, Padilla needs to contend with the young Mike Leake. 2010 was the first year for Leake in the bigs, and he has impressed. In two games, Leake has maintained a 2.63 ERA. He looks to have secured a spot in the Cincinnati Reds rotation.
Try Out SuperBook-US Approved Sports Betting Site
Vicente Padilla has an ERA that tops 8. A few more hits in his last game and that number would be very inflated. It is deceptive to say the least, and that is not in a good way. Padilla has consistent issues when he takes the mound. It really is a surprise that he has been able to hold his spot in the rotation. In addition to his poor stats in 2010, Padilla has a career ERA of 4.26 against the Reds. Now, 4.26 isn't "bad," but it certainly isn't good. He had traditionally dominated the Giants, his last opponent, but even then it was perfectly fine to bet against him. This game is not so much about the hitters, but whether Leake can stay on pace and if Padilla will continue to struggle.
Betting on Padilla's team is never a good idea, even if he does have a lot of big hitters to back him up. At only -110 on the moneyline, the Cincinnati Reds leave a lot of room for profitability. The Dodgers hitters are unfamiliar with Mike Leake, and he could very well shut them down. Take the Cincinnati Reds and don't be surprised if the Reds jump out to a massive lead early on.