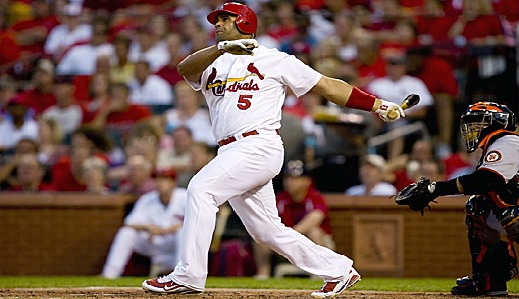 The Mets are coming off a rare win Thursday night. After dropping two games to the Rockies, New York battled back with a win of their own. Don't get used to it, though, because the Mets are not as good as this one win might indicate. The Rockies pale in comparison to their foe on Friday night, the St. Louis Cardinals. The Cardinals have added weapons to give Albert Pujols some backing in the batting order, not that they really needed it. Pujols can destroy virtually any pitcher he faces, but Colby Rasmus was an early surprise for St. Louis. Though he has cooled off a bit, Rasmus is still a bat to be feared. Toss Matt Holliday into the equation and you know that this offense is potent.
Chris Carpenter is taking the mound for the Cardinals. 2010 has not gone as planned for Carpenter, as he is working with an ERA that approaches 6. For the Mets, Oliver Perez gets the start. Perez 2010 has been even worse than Carpenter's. He has never lived up to his potential from the days when he was a Pittsburgh Pirate, and it doesn't seem like he is ever going to turn the corner. The Cardinals should destroy Perez more often than not. Carpenter, however, should work his way back to form and control a hampered Mets offense.
Considering Perez's instability on the mound and Carpenter's ability, the run line is the best bet. The money line is so high and it might be tempting to take the Mets, but the 2010 Mets are not the 2008 Mets. Bettors seem to be forgetting this. The Mets are not the Yankees and they are no longer a perennial power. Take the St. Louis Cardinals on the run line at even money (or even up to -110 or maybe even -120) and be very happy about it.