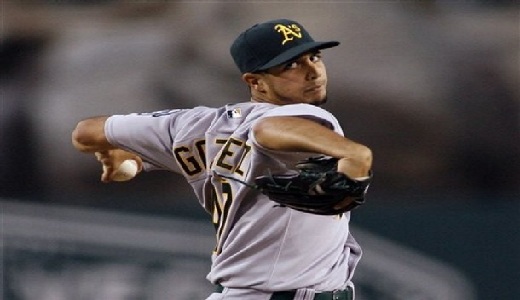 Javier Vazquez was lights out for the Atlanta Braves in 2009, posting a 2.87 ERA for the season in 32 games. 2010, however, has been rough for Vazquez. In his return to the New York Yankees, Vazquez has disappointed. He is working with an ERA that approaches 10, and has yet to come up with a win. A lot was expected of Vazquez this year, if only because of his phenomenal 2009. On Tuesday he will get another chance to redeem himself and prove the doubters wrong when he faces the Oakland Athletics. The Athletics have been one of the early surprises of 2010, as they have a 9-5 record going into Tuesdays game against the Yankees.
Many bettors are still passing up on Oakland, despite their impressive start. The Athletics are starting Gio Gonzalez. Gonzalez has bounced around a number of teams over the past few years, but seems to have settled into his role on the A's. His ERA was nothing special in 2009 (5.75 over 17 games started), but he might be turning a corner in 2010. In the early season, Gio has a solid 3.38 ERA. He hopes to keep his ERA below 4 after he faces a tough Yankee lineup on Tuesday. New York's offensive prowess is well documented, with players like Derek Jeter, Alex Rodriguez, and Robinson Cano pounding anyone who they face. Oakland, too, has been able to hold their own against the opposition's pitching. Catcher Kurt Suzuki works with a number of role players to put together one solid performance after another. Oakland's players know how to hit, and they won't be an easy task for Vazquez.
The best bet in this game is the Oakland moneyline at +150. Aside from Vazquez's issues in 2010, the Athletics have been very productive. Even if Javier Vazquez does show up on Tuesday, a good game from Gonzalez could keep them in the game. At +150, there is a lot of money to be made by betting on the A's in this game.