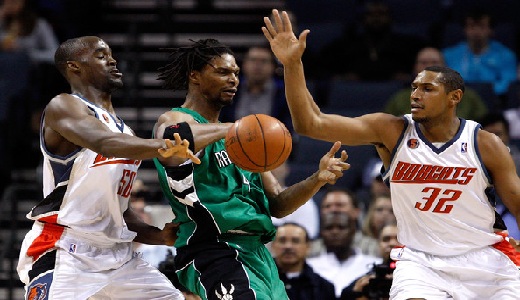 The Orlando Magic have been dominant in their opening series against the Charlotte Bobcats. Give the Bobcats credit, however, because many didn't even expect them to be here. These two teams have very different missions in these games. While Orlando wants to win after their Finals loss in 2009, the Bobcats realize they are here for the experience. There is not much hope for the Bobcats in this series, as they are already down 2-0. In all likelihood, the Bobcats are either going to win one game or get swept. Either way, there are still a few games left to be played. Bettors might think that the Bobcats are due for a win Saturday, like they did with the Bulls in game three, but the Magic are still a much better team.
The Magic have secured 9 point and 15 point wins against the Bobcats in their first two match ups. On Saturday, the spread has dwindled to just 2 points in favor of the Magic. Considering the prior games, the Magic would be a very easy pick. When you take a look at how the other teams have played after moving back to their home court, however, it becomes obvious that home court is indeed very important. Nonetheless, the Orlando Magic are a much better team than Charlotte Bobcats. This is one of the bigger mismatches in the 2010 playoffs.
The best line is this game is quite clear. At only -2 points, the Magic should have little problem covering. If the line was closer to -6, it would be fairly easy to pass on the Magic. Home court advantage is definitely going to play a role, but the questions is whether it is going to be enough for the Bobcats to stay competitive. The Magic have veterans, a will to win, and an edge in every aspect imaginable, this should be a relatively easy cover for Orlando.