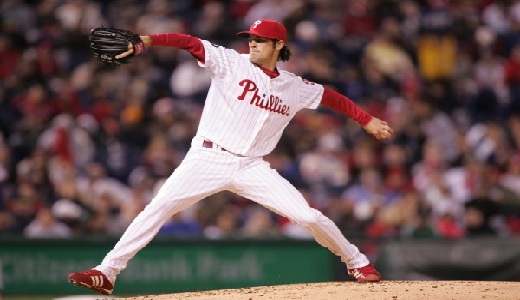 The Phillies and Nationals are meeting for their second series of 2010 on Monday. In the first three game series, Washington was able to escape with one win. This series should go the Phillies way, despite a recent hot streak for the Nationals. Aside from beating the Phillies, the Nationals were able to take two from the struggling Mets. For the most part, the Nationals have either gotten crushed or won by a few runs. This is why the Phillies shouldn't be taken on the moneyline when you can bet the run line. What sense is there in betting the money line at -270? That is a massive number. Since the Phillies usually dominate when they win, it makes a lot more sense to go after the run line.
The Nationals are starting Jason Marquis, definitely a volatile pitcher. Marquis could shut down the Phillies, it certainly isn't impossible, but it is much more likely that Hamels will shut down the Nationals. As previously mentioned, the Nationals have been on fire, but they aren't a powerful offensive team. Once they face Hamels, they should drop back down to earth. The starting pitching edge goes to Hamels, who looked sharp in his debut, and the offensive advantage is not even in question.
The Phillies are a great pick at -130 on the -1.5 run line. Not the best line in the world, but all things considered, they should be able to lock up a 2+ run win quite often. The Nationals will need to beat up on Hamels early if they want to hang around.