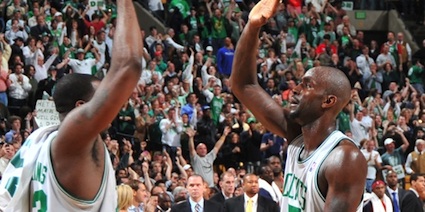 LeBron James was miles away better in Game 6 than Game 5. It still didn't matter because it yielded the same result. The Celtics beat the Cavs 94-85 in Boston to advance to the Eastern Conference finals. The Orlando Magic await them.
James chalked up a triple double – his fifth in his young playoff career – 27 points, 19 rebounds and 10 assists but made only 8 of 21 shots. The soon to be New York Knick, if he decides to opt out and leave Cleveland, was much more determined and forceful than his lackluster performance in Game 5.
Kevin Garnett turned back time and played like his days in Minnesota making 11 of his 19 attempts from the field for 22 points. He also grabbed 12 rebounds. Point guard Rajon Rondo, who was the series changer, scored 21 points and dished out 12 assists.
The Celtics built a 76 – 67 lead after three quarters. James hit back to back threes to bring the Celtic lead down to four points early in the fourth – that was the closest the Cavs would get. Rondo hit a layup, Pierce knocked down a three, Wallace knocked down a three and Garnett's dunk pushed the lead to 14 points with a little under six minutes left in the game.
Mo Williams scored 20 of his 22 points in the first half. His disappearance in the second half played a huge role in the Celtics victory. Boston knew that James would come out and play is heart out, so they concentrated on containing James' supporting cast. Shaquille O'Neal scored 11 points for Cleveland. He'll likely retire after the season.
The Cavs struggled as a team shooting a horrendous 29 percent from beyond the arc and 38 percent from the field. Boston didn't fare any better, 44 percent from the field and 29 percent from three, but made shots when it mattered – down the stretch.
Paul Pierce had a terrible shooting night scoring only 13 points on 4-13 shooting. Ray Allen also had an off night attempting five threes and making none. He finished with eight points. Their performance went unnoticed since in the playoffs it's defense that matters. Both Pierce and Allen played great defense.
Undoubtedly, the player of the series was Rondo. He turned the tide of the series with his epic 29-point, 13-assist and 18-rebound performance in Game 4.
LeBron James has a long summer ahead of him. His decision will likely affect the Cleveland franchise and the franchise he decides to play for. Cavs coach Mike Brown is on the hot seat after failing to lead his team to the Finals for the third straight year.