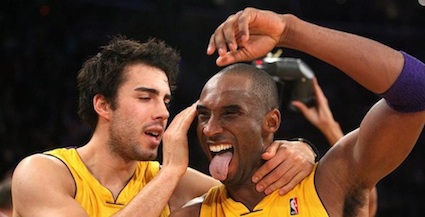 The LA Lakers are still stinging from the two straight years the Suns eliminated them from the playoffs. Of course this was all before the Lakers acquired big man Pau Gasol. In the two years the Lakers were eliminated by the Suns, the Purple and Gold had no one to provide Kobe Bryant with consistent help. It's all a whole different ball game with Gasol's presence.
The Lakers aren't the only team that has experienced changes. Phoenix acquired Channing Frye during the offseason. His three point shooting will spread the floor for the Suns and pull either Andrew Bynum or Gasol away from the basket. The lane will be wide open for Steve Nash to unleash his bag of creativity and deception. Jason Richardson and Jared Dudley are also key players for the Suns.
Don't assume in any way that Kobe has forgotten what the Suns did to them during the post-Shaq, pre-Gasol era. He'll be motivated to settle the score and avenge their past playoff failures against the Suns.
Match-ups:
Steve Nash/Goran Dragic vs Derek Fisher/Jordan Farmar
Two-time MVP Steve Nash will run circles around Derek Fisher, but Fisher's consistent outside shooting will also keep Nash on the defensive. The best chance the Lakers have defending Nash is Shannon Brown. His athleticism and length are the right weapons to bother Nash. Not to mention the mind games Phil Jackson has already unleashed against Nash. Dragic is capable of catching fire at the right time – just ask the San Antonio Spurs. What Dragic needs to work on is his consistency instead of suddenly exploding for a single night.
Advantage: Suns
Jason Richardson/Leandro Barbosa vs. Kobe Bryant/Shannon Brown
Kobe is locked in and you know how he is when he is determined. Richardson and Barbosa will get their turns against Bryant. One of the most fun match-ups is seeing Brown chase Barbosa around on fast breaks. Barbosa has yet to have a big game and I figure he is due for one against the Lakers.
Richardson is the x-factor for the Suns. If he plays like he did against Portland in Games 2, 3 and 6, the Suns may actually steal this series. It may be difficult to do against Ron Artest.
Advantage: Lakers
Grant Hill/Jared Dudley vs. Ron Artest/Luke Walton
Hill will be spending his time trying to slow down Bryant while Artest will try and keep Richardson from having a big game. Dudley is one of the biggest surprises in these playoffs. His energy and defense are just what the Suns need. He is a younger and fresher version of Raja Bell. Artest's outside shooting remains erratic.
Advantage: Draw
Amar'e Stoudemire/Lou Amundson vs. Pau Gasol/Lamar Odom
Gasol is a tough customer down low and Amundson's overeagerness on defense will lead to more baskets for the Spaniard. Gasol will only be ineffective if the Lakers' guards forget to feed him the ball. Odom's been playing great defense as of late and seems to have found the passion to rebound again. Besides Bryant, he too remembers the elimination games handed to them by the Suns.
Stoudemire is in a contract year, so expect him to play at his highest potential. Nothing motivates a player like impending free agency. STAT has finally learned that defense is needed to win in the playoffs. He will not be guarding Gasol the entire game to keep him from getting in foul trouble.
Advantage: Lakers because Odom brings more to the table than Amundson.
Robin Lopez/Channing Frye vs. Andrew Bynum/DJ Mbenga/Josh Powell
With Bynum's knee worsening, the Lakers will have a hard time clogging the lane and preventing those twisting Nash layups. Frye's outside shooting also assure the Suns of wide open driving lanes. Lopez will be one of the defenders to try and slow down Gasol.
Advantage: Suns
This is Nash's best chance of making it to the Finals. It's now or never for him.
Lakers in 7.