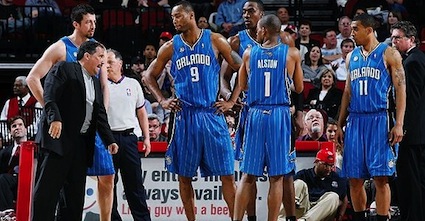 Orlando's 14 game winning streak – 8 in the playoffs and 6 during the season – was snapped by the aging but game Boston Celtics. Boston was up by as much as 20 points and dominated the rest of the way. The Magic desperately tried to make up for lost time in the fourth quarter but the Celtics beat them to every lose ball and rebound to preserve the win.
Heck, even the Celtics medical staff somehow revived Rasheed Wallace's corpse. Wallace scored 13 points, including a buzzer beating three over Rashard Lewis which was a sign of things to come.
Boston played with the intensity, seriousness and physicality yet to be seen by the Magic in the playoffs. Not to mention a sense of urgency knowing that this may well be their last chance at a title before the trio of Paul Pierce, Kevin Garnett and Ray Allen completely break down. Dwight Howard was dominating in the series against the Hawks but against the physical big men of the Celtics, "Superman" turned into Jimmy Olsen. The combination of Wallace, Glen Davis and Kendrick Perkins took turns hammering Howard and keeping him out of the paint. Together that same trio combined for 12 fouls – they made sure that every foul counted and that Howard would definitely feel them.
Many wanted coach Doc Rivers to bury Wallace at the end of the bench during the regular season because of his penchant for launching ill-advised threes and slow-footed defense. Only now are the Celtics realizing his real value It's clear that this year's version of the Celtics was built not to beat the Cavs but to oust the Magic in the Eastern Conference.
With the big men of the Celtics, Howard found himself always on single coverage. Not an extra Celtic defender collapsing on him. Suddenly, Howard had no clear pass to open teammates. Rashard Lewis, Vince Carter, Matt Barnes, JJ Redick, Jameer Nelson and Mickael Pietrus didn't even have enough air around them to clearly see the rim from the perimeter. The Magic shot a miserable 23% (5 of 22) from beyond the arc.
Boston looked like the younger and hungrier team in Game 1. They definitely wiped the smile off Dwight Howard's face with their constant slapping, tugging and pushing.
Pierce came alive in Game 1 and played his best game so far in the playoffs. He made six of his eight attempts en route to 22 points.
If the Magic are going to win this series they have to play with urgency and desperation like the Celtics. Smiling and dancing around won't help their cause, just ask LeBron James and the Cleveland Cavaliers.