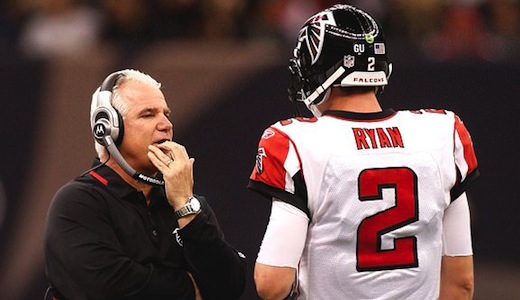 Cincinnati Bengals @ Atlanta Falcons Sun. Oct 24th 1pm EST
The Atlanta Falcons have been arguably one of the best teams in the NFL over the last two seasons, but despite being able to turn things around after drafting franchise quarterback Matt Ryan a couple of years ago, they have been unable to get the best of the NFC South division rival and defending Super Bowl champion New Orleans Saints. Marvin Lewis and Andy Reid – Dan Rooney and Bill Bidwill and Jerry Jones
With the Saints standing in their way of the NFC South division title, the Falcons have had to compete with the rest of the NFC Conference for the NFC Wildcard in order to get back into the playoffs, but this season they have been able to beat the Saints in their first meeting this season and take control of first place in their division.
Sign up for an Account Now at Bodog Sportsbook
Obviously, the defending champs are still the favorites to win the division title once again, but I believe the torch may have been handed over to the Atlanta Falcons and they could quite possibly be on their way into the playoffs with a division title.
So even though the Atlanta Falcons could be on their way to a division title, they will still have their work cut out for them this season starting with the reigning AFC North division title champion Cincinnati Bengals in Week 7.
Despite dominating their division last season and finally making it back into the playoffs with a healthy Carson Palmer under center, the Cincinnati Bengals have been pretty streaky this season with some impressive wins over teams like the Baltimore Ravens and the Carolina Panthers, they have lost against teams they should have beaten this season like the Cleveland Browns and the Tampa Bay Buccaneers in consecutive weeks.
There is no question the Bengals are a very talented football team, especially on the offensive side of the football, but they just haven't been able to play consistently well and they will need to do so in order to get the best of the Atlanta Falcons in Week 7.
Unfortunately, both teams are coming off disappointing losses coming into this Week 7 matchup, but only one will be able to come out on top this time around.
Bet the NFL Season with Bodog Sportsbook
As of right now, the Atlanta Falcons are favored to win this game against the Cincinnati Bengals in Week 7 with a -3.5 point spread, but even though I believe it is just a matter of time before Carson Palmer and company begin to turn things around, it won't happen this weekend as the Falcons will almost certainly come out with the win.
This will most likely be a hard fought battle in the first half with two potent offenses going at it, but in the second half I see the Atlanta Falcons pulling away and sealing the deal was they will get their fifth win of the season and stay atop the NFC South division.