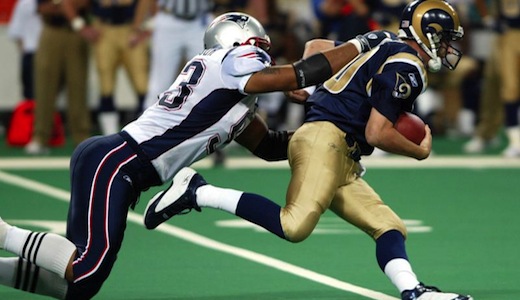 1. New England Patriots
The Patriots grabbed a great win over the Steelers after letting one go in Cleveland.
2. New York Jets
Great play down the stretch by Santonio Holmes. It would've been more impressive if it wasn't against the Browns.
3. Philadelphia Eagles
All this Michael Vick for MVP talk should be credited to Donovan McNabb. He was responsible for bringing Vick to Philadelphia.
4. Atlanta Falcons
Not that high on Atlanta. Their only significant win came against the Saints in New Orleans when the champs were struggling.
5. Baltimore Ravens
If not for the magic of Matt Ryan, the Ravens would be in the top 3.
Sign up for an Account Now at Bodog Sportsbook
6. New Orleans Saints
It took a while but the champs are finally sober. Except for the misstep against Cleveland, New Orleans looks like it's ready to make a run to back-to-back titles.
7. Pittsburgh Steelers
Troy Polamalu is healthy, but not the playmaking force he was two years ago.
8. Indianapolis Colts
Their defense stepped up at the perfect time to help Payton Manning and his depleted offensive weapons.
9. Green Bay Packers
Packers' tight end Jermichael Finley was right. If Green Bay beats the Vikings you can stick a fork in them because Minnesota's season will be done.
10. New York Giants
The Giants faded badly late in the season last year. With a loss to Dallas they could be heading for a repeat performance.
Bet the NFL Season with Bodog Sportsbook
11. Tampa Bay Buccaneers
A little too high for Tampa Bay but who can hate on QB Josh Freeman and his quick development?
12. San Diego Chargers
Chargers have no running game and a terrible special teams, but they are the best 4 – 5 team in the NFL.
13. Chicago Bears
Jay Cutler has been on the menu of opposing defenses for the past six weeks.
14. Tennessee Titans
The Titans have not been able to take advantage of an easy schedule.
15. Oakland Raiders
Oakland has a tough match-up ahead against the Steelers. A win will make the
AFC West a little more complicated. Not to mention exciting.
Sign up for an Account at BoDog and Bet NFL Football
16. Miami Dolphins
Three takeaways from the Titans. Imagine what they'll do to turnover prone Jay Cutler.
17. Jacksonville Jaguars
Jacksonville held Houston to 81 yards rushing. With Patrick Hillis and the Browns coming to town it's doubtful that they'll stop the bruising Hillis.
18. Kansas City Chiefs
The Chiefs went back to basics during practice. That'll help against the collapsing Cardinals
19. Washington Redskins
Dear Daniel Snyder, Donovan McNabb was over the hill two seasons ago. Thanks for trading for him. Sincerely, Andy Reid
20. Houston Texans
Matt Schaub might miss this week's game. Bad sign for the already struggling Texans.
Bet the NFL Season With Bodog Sportsbook
21. Minnesota Vikings
This season has been a disaster for Minnesota. It's time for Brett Favre to walk away…for good.
22. Seattle Seahawks
The Seahawks sit atop the NFC West. They'll lose that position with their visit to New Orleans.
23. Cleveland Browns
They've had some close losses this season. Cleveland easily could've had at least three more wins.
24. St. Louis Rams
Sam Bradford is the real deal and their pass rush ain't that bad either.
25. San Francisco 49ers
Good call to start playing Troy Smith. Alex Smith and David Carr simply can't win games.
Bet NFL Football at Bodog – Click HERE
26. Cincinnati Bengals
It's great that Terrell Owens and Mr. 85 have a reality show. It takes your mind off how bad Cincinnati is this season.
27. Arizona Cardinals
It's amazing how a great receiver like Larry Fitzgerald can be so underappreciated by a team that lacks offensive firepower.
28. Denver Broncos
Is it wrong to hope for a combined 800-yard passing night from the Broncos and Chargers this week?
29. Detroit Lions
Can Matthew Stafford ever stay healthy long enough to impact the Lions season? He's taking a page out of Greg Oden's book.
30. Dallas Cowboys
So much for the Cowboys playing the Super Bowl at home. I wonder if Manny Pacquiao plays any quarterback.
31. Carolina Panthers
Mike Goodson got his first 100-yard rushing game last week. Expect him to also get his first hard hit from the Ravens defense this week.
32. Buffalo Bills
1 – 8? Stop draft positioning Buffalo!